Shared hosting is the form of website hosting most commonly selected by bloggers, hobbyists, and small businesses. One of the big appeals of shared hosting is its tremendous affordability, given the fact that multiple users can share the resources from a secure group of servers, thus spreading out the cost among them all. Another considerable benefit of shared hosting is that your website can be managed for you, so you won't need to have any expertise in the I.T. area, for instance, when it's necessary to apply patches or manage the servers.
With shared hosting being so popular, your biggest issue might be finding the right web host for your site. That's where we come in. At Connect Hosting, we offer several very affordable packages that can get you up and running very quickly, and keep your website available to visitors 24x7. We make it easy for you to construct your own website, even if you have no skills as a developer because we provide you with hundreds of templates to choose from. Whichever one fits your small business or your project intent most closely is the one you can use to base your site on.
Build your own website easily 
The reason you won't need any design or development skills is that we can provide you with a sophisticated Website Builder, in one of several different flavors. The simplest version is the Personal Website Builder, and that is also the most economical, priced at just a few dollars per month. Small businesses might opt for the Website Builder for Business, or the Plus version of that same package, both of which offer more features for getting your business noticed and visited. At the top of the line, there are some really advanced packages such as WordPress Developer, WordPress for E-Commerce, and WordPress Pro, if your hosting needs range to the more sophisticated.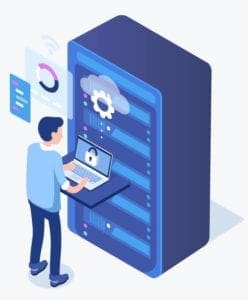 There are many levels of hosting available to you, and these are provided by Connect Hosting in two major categories: self-managed and fully-managed. Just as you might think, self-managed packages provide the resources which you'll need for your particular level of website activity, with you doing most of the necessary managing and maintenance.
Fully-managed hosting involves having us do all the required maintenance and management, so that all becomes invisible to you, and you can just enjoy the benefits of superior control. The primary difference between the various levels of hosting management comes with the volume of resources which are allocated to your site. We'll be happy to advise you on the resources which will be necessary to conduct your business, but the final choice will, of course, be up to you.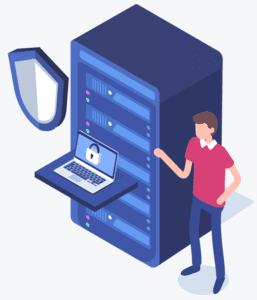 These days, one of the most important aspects of having a website is making sure it's secure against attack from hackers. You might think your small business is too insignificant to catch the attention of criminals, but that just isn't true anymore. Hackers have discovered that attacks on many small businesses can add up to the same kind of payday as an attack on a major corporation - which means no one is safe. We can provide you with an appropriate level of security against cybercrime, and we can implement SSL technology for your site, which means all data exchanges will be encrypted and, therefore, useless to attackers.
The best choice for shared hosting 
Because we make it so easy for you to get your site online, we manage it for you if you so desire, and we keep it secure against attack, we like to think we're the very best choice for shared web hosting. Try us for a month or two, and we think you'll end up agreeing.